When should I refer to a melanoma clinic? | 34 mins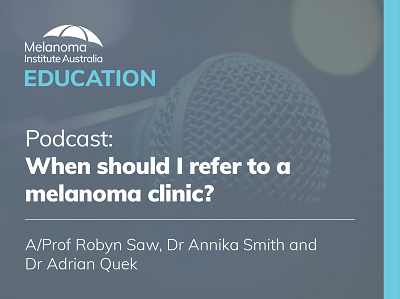 When should I refer to a melanoma clinic?


In the evolving treatment landscape of melanoma, it is important for GPs and Dermatologists to be confident in managing or knowing when to refer their melanoma patients. In this podcast, Surgeon A/Prof Robyn Saw, Dermatologist Dr Annika Smith and Skin Cancer GP Dr Adrian Quek discuss the ideal biopsy for a melanoma diagnosis, provides an overview of management of early stage disease, outlines the role of sentinel lymph node biopsy and discusses which patients need referral to a specialist melanoma clinic.

This podcast is suitable for GPs, Dermatologists and other healthcare professionals.

Subscribe to our new Melanoma Insights for Professionals podcasts via iTunes or Spotify or for Android devices, click here or search for 'Melanoma Insights for Professionals' your favourite podcast app.

SPEAKERS



A/Prof Robyn Saw
General Surgeon, Melanoma Institute Australia | Associate Professor in Surgery, The University of Sydney | Head of Department, Melanoma and Surgical Oncology, Royal Prince Alfred Hospital
Declaration of Interest
Dr Annika Smith
Dermatologist, Melanoma Institute Australia, St Vincent's Hospital and Westmead Hospital
Dr Adrian Quek
Skin Cancer GP, Melanoma Institute Australia and The Chatswood Skin Cancer Clinic
Derek Bryan
Head of Education & Government Affairs, Melanoma Institute Australia

LEARNING OUTCOMES


Identify modalities for diagnosis of melanoma and treatment for primary melanoma, with a brief overview of advanced melanoma therapy.
Identify when sentinel node biopsy is indicated and what is required workup for Stage III disease.
Identify which patients need to be referred to a specialist melanoma service and the rationale behind this.