Adjuvant and neo-adjuvant clinical trials in melanoma | 22 min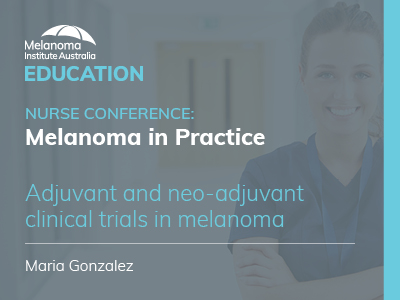 Adjuvant and neo-adjuvant clinical trials in melanoma | 22 min

Treating melanoma patients in the adjuvant and neo-adjuvant setting is an exciting research avenue. Hear from Clinical Trials Manager, Maria Gonzalez, as she gives an overview of clinical trials in melanoma and discusses the latest trials, using patient case studies, that are improving outcomes for melanoma patients.

This presentation was given at the 2019 Nurse Conference: Melanoma in Practice.

PRESENTERS
Maria Gonzalez
Clinical Trials Manager, Melanoma Institute Australia


Jessica Khan

Fantastic

Fantastic information about clinical trial use for patients with melanoma.

Judith Helen Ruge

Adjuvant and neo-adjuvant clinical trials in melanoma

Very interesting and easy to follow and understand

Angela Juso

Adjuvant and Neo Adjuvant Clinical trials in Melanoma

This video was a great introduction to clinical trial, I have worked in Cardiac clinical trials and I loved every minute of it. Would be interested in helping out if there were any here in Qld where I work in a Skin Cancer Clinic.